HOME

CATALOG

SPECIALS

ARTICLES

NEWSLETTER

COMPANY INFO

CONTACTS
Rediscovering
Sam Moore

By Allan Sutton
Photos and source material courtesy of Betsy Loar
Updated: August 18, 2011


---
Sam Moore's 1921 "Laughing Rag" (Victor 18849) is one of those records that astonishes:
a blending of Southern folk, Hawaiian, and ragtime influences unlike anything recorded
to that point. But his guitar work was only a part of the picture. Moore also championed unconventional instruments ranging from the sublime to the intentionally ridiculous, and
for a time he made even jaded New Yorkers sit up and listen.


---
Sam Moore with his family (left panel, far right), and with
banjo, both circa 1895.
The Moores had already established a reputation as musical family when Samuel Pasco Moore was born in Monticello, Florida, on June 28, 1887. His father, Samuel Lewis Moore, was a Civil War veteran and holder of a Confederate Cross of Honor. Music, however, was only an avocation for the Moores, who owned a construction business.

Proficient on the violin by age seven, Sam was later sent to Macon, Georgia, to study under Professor W.C. Kaler. After a badly healed broken arm ended his aspirations as a violinist, Moore turned to the banjo and guitar and began to experiment with everyday objects as musical instruments.
Sam Moore on Stage
In 1919, Moore left Georgia to audition for Florenz Ziegfeld in New York. The happy result was a two-year run with Ziegfeld's Follies (1920 - 1921). For a time, the newly arrived Georgian was the toast of New York society, even serving as guest of honor at a reception hosted by the Musical Courier for Enrico Caruso and other Metropolitan Opera luminaries. "Those eminent artists," a New York paper reported, "were so delighted by Mr. Moore's playing on a carpenter's hand saw, that they hovered so closely around him that he hardly had room to play."
There followed many years as a headliner on the Keith and Orpheum vaudeville circuits. The Columbus (Georgia) Ledger for April 9, 1924, reported that "Among the most appreciative of Sam Moore's audiences are the negroes who go north... [they] often talk to the performer from the galleries, which makes the act 'go big'..."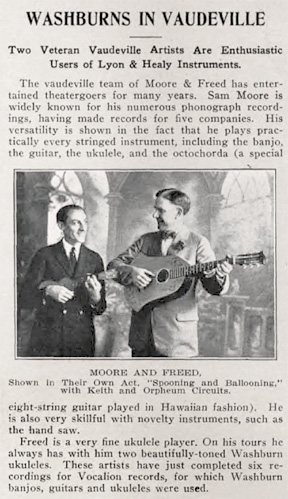 Moore and Freed in a pitch for Washburn instruments (April 4, 1924).
The caption is reversed; Moore is on the right.

Moore's first vaudeville partner was Horace D. Davis, a great-grandson of Robert E. Lee and an accomplished guitarist who also performed under the name of John Powell. Around 1924 Moore teamed with Carl Freed, a ukulele and guitar playing who also played the musical spoons. Moore and Freed developed an act entitled "Spooning and Ballooning," with Moore playing an inflated rubber balloon to Freed's spoon accompaniment. An undated news clipping supplied by Betsy Loar noted that "'Spooning and Ballooning' is more or less of a riot at the Golden Gate this week... He [Moore] claims to be the inventor of rubber balloon music, and says it was suggested to him by his small son, who found a way of making weird noises with a similar balloon even after the whistle that came with it had been lost." By 1927, however, Moore seems to have been reunited with Davis.
"Laughing Rag" and the Octo-Chorda

Moore's greatest hit was undoubtedly his infectious "Laughing Rag," which he recorded for three companies in 1921 as an octo-chorda solo. Although several accounts credited Moore with the invention of the octo-chorda, a 1926 news article reported that Moore's eight-string steel guitar was "the recent invention of Harry Skinner of Lyons & Healy in Chicago. It is tuned on an entirely different principle from other guitars.... At present, he says, he is the only performer using such a guitar on the stage."

During the summer of 1921, Moore recorded "Laughing Rag" for the Gennett, Okeh, and Victor labels. Gennett's version (4747) - the first to be issued, in October 1921 - used a conventional accompaniment by studio pianist Frank Banta. Okeh's version (4412), released in November and coupled with Moore's "Chain Gang Blues," used an uncredited accompanist. Moore recorded two more octo-chorda solos for Okeh at about the same time - "Wang Wang Blues" / "Tuck Me to Sleep in My Old 'Tucky Home" (4423) - with guitar accompaniment by Horace Davis.
Moore's most successful recording of "Laughing Rag," musically as well as financially, was made for the Victor Talking Machine Company in their New York studio on August 24, 1921. For this session Moore again brought along Davis to accompany on the harp-guitar, an odd hybrid instrument with six primary strings plus an additional set of strings that resonated sympathetically. Victor inexplicably delayed release of the disc for six months, until February 1922, only to discover that they had a hit on their hands. The guitar interplay between Moore and Davis proved to be irresistible. Victor's version (18849) remains a perennial favorite with collectors and has been reissued several times, the latest instance being RCA's 1998 "Classic Ragtime" CD. In the program notes to that CD, historian Richard Spottswood praises Moore's "aggressive mainland verve...which stands halfway between Hawaiian and the 1920s country guitar rags of Sam McGee, Blind Blake, Roy Harvey, and Sylvester Weaver."
"I've Seen Him Get Music out of a Pitchfork"

Although Moore's guitar work is what interests most modern collectors, his use of offbeat instruments is what captivated audiences in the 1920s. In April 1924 Moore's father told the Columbus Courier, "That boy can music out of anything. When he was a small boy, I've seen him get music out of a pitchfork." Moore didn't leave any known recordings on the pitchfork, but by 1918 he was experimenting with the hand saw (which had a long, if little-studied, tradition in Southern folk music), first tapping it with a pencil but eventually perfecting a bowed technique.

Moore recorded "Mother Machree" on the hand saw at his first Gennett session, and the results were issued on the reverse side of "Laughing Rag." By the time he recorded for Columbia in 1922, however, the musical-saw fad was fading in New York. Moore's April 7, 1922, Columbia session yielded a single release (A3750) that appears to have sold poorly. A few Moore saw-solo releases followed in 1923 - 1924 on Brunswick, Vocalion, and possibly some minor labels, but again sales appear to have been small.
A 1920s studio portrait of Sam Moore (left), and a snapshot taken
during his stint with KFSO radio's "Country Store" (right)
By the mid-1920s, with several firms marketing cheap musical saws and instruction courses, the hand saw was largely relegated to the status of an amateur's novelty instrument. Moore carried on, championing the hand saw as well as a host of other instruments that had fallen from (or, in the case of the rubber balloon, never attained) grace. A 1920s newspaper article reported that Moore's hand saw was "the same kind you see carpenters use every day.... The saw has to be pulled with great strength - measures show the pulling strength exerted to be 200 pounds - before the metal is in the exact condition, or tension, to give the marvelous results produced by Mr. Moore."
Later Years

In the 1930s Moore switched to radio work, writing for and performing on several NBC shows into the 1940s. For a time he teamed with his wife, Carolyn, in a stereotypical "blackface" act called "Sambo & Mandy" for local radio broadcasts and personal appearances.
Moore suffered from asthma, and eventually he settled in San Francisco for health reasons. There he was featured in the cast of KFSO's "Country Store." He died in San Francisco on November 13, 1959, at the age of 72.

---

Our thanks to Betsy (Moore) Loar, the grand-daughter of Sam Moore, for sharing her rare photos and clippings.